Big Kahuna
I went to the Senor Frogs VIP Party last night and it was a great time.
I've heard lots of rumblings from locals that they don't like the balloon hats, whistles, dancing, food prices and free tequila shots etc.
Here's a good example of what I personally think is lots of fun: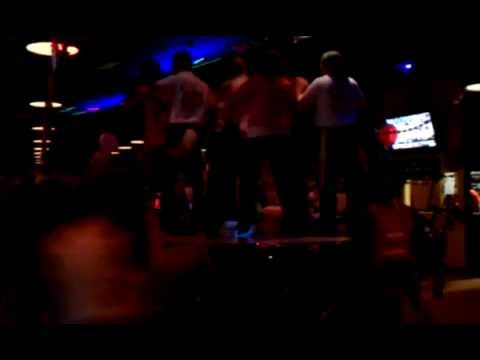 But St. Thomas is tough on newcomers. And Senor Frogs is WAY out of the comfort zone for a lot of locals. Here's the thing, Senor Frogs is not going to change their brand for locals. Sure they'd love to have us and I will be a frequent visitor there but they really want the tourists. And the tourists don't mind spending extra dollars on wings when they are entertained the way they are from the Frog. Oh and then there's the pool parties…
So to all of the nay sayers who say "Chain restaurants don't work here" like it's a badge of honor I say just stop whining about it and don't go if you don't like it. And sure there have been chain restaurants that have failed here but we really don't want them to, right?
Yes, we all know the slow season is coming and locals like myself will support/carry a lot of restaurants with our patronage. The Frog knows the slow season is coming as well as they are in many tourist areas. So if all the nonsense with the whistles and dancing is a chill kill then I say part friends and move along. But try and be nice (as long as they don't mess it up) because honestly we need well run businesses down here that provide good jobs.
Senor Frogs, I have now visited you in Puerto Rico,  Cozumel, Cancun and St. Thomas. The food is always good and the bar is always fun.
Oh and Senor Frogs is NOT an advertiser on our blog.